To see detailed h2h stats and predictions for Belinda Bencic vs Simona Halep, see our Stevegtennis head to head prediction here.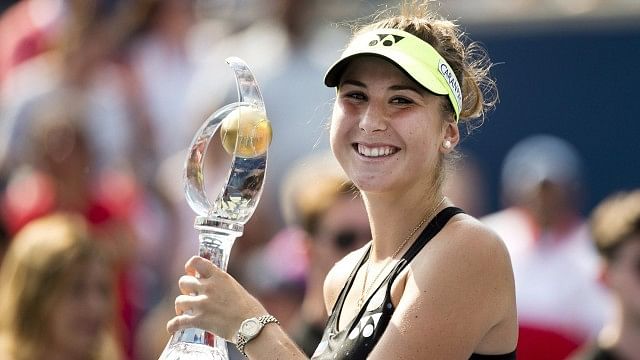 ​Swiss teen Belinda Bencic outlasted Simona Halep to win Sunday's WTA Rogers Cup final when the Romanian second seed retired trailing 7-6 (7/5), 6-7 (4/7), 3-0.
Bencic, who upset world number one Serena Williams in the semi-finals, broke twice to open the third set before the effort of battling in extreme heat and humidity proved more than Halep could take. The Swiss 18-year-old has won 21 of her past 25 matches and defeated four top-10 foes this week, improving to 6-1 this year against such high-ranked rivals.
It was the second career WTA crown for Bencic, whose first came in June at Eastbourne, and it capped an impressive week in which she defeated six Grand Slam finalists — Eugenie Bouchard, Caroline Wozniacki, Sabine Lisicki, Ana Ivanovic, Halep and Williams, winner of the past four Grand Slam events in a row. Bencic will jump to 12th in the world rankings after starting the week 20th, improving her position for the US Open, the year's final Grand Slam event that starts August 31 in New York.
Halep and Bencic exchanged breaks over the first five games of the match before Bencic held for a 4-2 edge. The 18-year-old double faulted to surrender an equalizing break in the eighth game as the two battled into the tie-breaker. Halep, who had her left leg treated in the final changeover before the tie-breaker, seized a 4-1 lead but Bencic fought back to win six of the last seven points to claim the first set, the last when Halep netted a forehand.
After an early exchange of breaks in the second set, Bencic broke for a 4-2 lead and Halep, taking treatment for the extreme heat at humidity, seemed near the end. But she broke back to 4-3 and answered when Bencic broke for a 5-3 edge, breaking back again at love when the Swiss was serving for the match to pull within 5-4. Halep held and broke again for a 6-5 lead and then it was her turn to serve for the set, but Bencic broke back to force the second tie-breaker.
Winning six points of seven, Halep seized a 6-2 edge and rallied from a weak stretch for the third match in a row to level matters.
But Halep, who beat Bencic in straight sets at Wimbledon a year ago in their only prior meeting, did not have a second wind and Bencic dominated her twice in service games before Halep called it quits, only her fourth loss in 32 hardcourt starts in 2015.
---
STATS-METER
Bencic's week in Toronto has got to be the most impressive title run on the women's tour in recent memory. She beat four of the world's top-six – Serena Williams (No1), Simona Halep (No3), Caroline Wozniacki (No5) and Ana Ivanovic (No6) – plus two more slam finalists in Eugenie Bouchard (No25) and Sabine Lisicki (No24) ("all slam finalists").
Her assault on the world rankings has been gradual and steady and at 18, she owns two titles and has made two more finals. The good thing about Bencic is that instead of exploding onto the scene with some huge results in the slams, she's actually been making progress throughout the year, transitioning nicely from being a world No1 junior in 2013, to a top-12 player on the women's circuit two years later.
With 18 years and 23 weeks, Bencic became the youngest female player to win the Rogers Cup, taking over that honor from Ana Ivanovic, who was 18 years and 41 weeks when she won the title in 2006.
With her victory over Serena in the SF, Bencic is the youngest player to beat Williams, 33, since the American lost to a 17-year-old Maria Sharapova in the final at Wimbledon in 2004.
It was her second defeat of the year and first on hard court since the 2014 WTA Finals to Simona Halep (22-Match win streak on Hard-Courts). The loss also ended William's 18 match winning streak in three-set matches. Coincidentally, the last time she suffered a three-set loss was also in the semifinals of the Rogers Cup (against her sister Venus) in 2014. This was also William's first loss in Toronto since 2009 when she lost to Elena Dementieva.
Serena now drops to 43-2 this season (4 titles – Aus Open, Miami, Roland Garros and Wimbledon).
The Head-to-Head is now 1-1 between Bencic & Halep.
For additional head to head predictions of Belinda Bencic Simona Halep, you can see detailed H2H stats for Belinda Bencic vs Simona Halep.
To see all our predictions for upcoming matches, based on our machine learning model analysing results since 1960, see our tennis predictions page here.