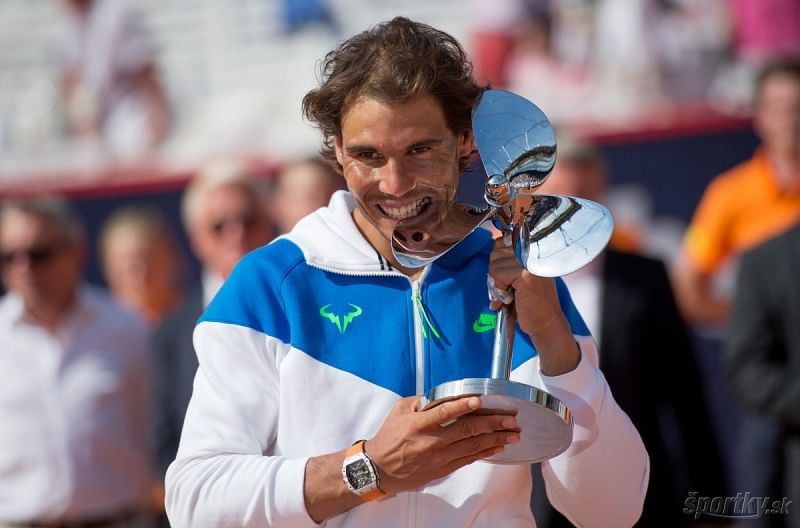 ​For the second time in as many months, Rafael Nadal leaves Germany with a trophy in his racket bag and a spring in his step. Well, almost. The Spaniard, who won on grass in Stuttgart seven weeks ago, came through a grueling final match against Fabio Fognini 7-5, 7-5 to win the bet-at-home Hamburg Open and seal his third title of the year.
The Spaniard improved to 67-29 in ATP World Tour finals as he exacted revenge on the Italian, who defeated him twice this year in Rio de Janeiro and Barcelona. Nadal also improved his Head-to-Head series against Fognini to 5-2.
"I lost the last two times against him, so I knew it was going to be a tough one," said Nadal. "I think I had a great attitude the whole match, very positive, fighting for every ball. I had some tough moments on court, lost opportunities, but every time I came back and I kept fighting with the right mentality. I'm very happy for the victory. It is an important victory for me."
A 12-minute opening game saw Fognini break Nadal's serve for an early 1-0 lead. Four breaks of serve later, Nadal finally earned the first hold for 3-2. The top seed would claim the opening set with a forehand down-the-line return winner after 77 minutes. Nadal broke for a 3-1 lead in the second set, but Fognini maintained composure to break back. Later, three consecutive breaks of serve allowed Fognini the chance to serve for the second set. Nadal saved one set point and went on to break and level the set again at 5-all. As the Italian served to send the second set to a tie-break, Nadal capitalised on his first match point opportunity for victory in two hours and 34 minutes.
The 29-year-old Mallorcan extended his streak of having won at least one European ATP World Tour clay-court title each year since 2004 as he received €311,775 in prize money and 500 Emirates ATP Rankings points.
"Now the hard-court season is starting, it's a different story," said Nadal. "But at the same time, I'll keep going with the same mentality and this title helps to be a little bit more calm and add some points to my [Emirates ATP] Ranking to try to finish the year in the Top 8 again."
The eighth seed and 2013 Hamburg champion Fognini falls to 3-7 in ATP World Tour finals and earned €140,560 and 300 Rankings points.
"I'm happy with the way I played during the week," said Fognini. "It was a great match. It was really tough."
Rekindling memories of a press conference Rafa gave after beating David Nalbandian at the 2011 US Open, when he slid off his chair after suffering a sudden attack of cramp, Nadal then succumbed to cramp as he addressed the crowd during the trophy ceremony.
After a punishing contest in the afternoon sun that stretched to more than two hours and 34 minutes against an opponent who has become something of a clay-court nemesis this year, Nadal might have hoped that Michael Stich, the tournament director, would bring the formalities to a swift conclusion.
The former Wimbledon champion instead spoke at length and by the time Nadal got a turn at the microphone he had evidently begun to stiffen up. "It was a great final, up and down, so I hope that people enjoyed it," said Nadal, who last won the ATP Tour 500 event in 2008, when it was still part of the Masters Series. "Coming back to Hamburg after seven years was a big challenge and excitement for me."
Moments later, he announced he was cramping and began stretching his quadriceps. Standing on one leg, he added, to the crowd's evident amusement: "OK, we continue like this."
In truth, though, it was Fognini who did not have a leg to stand on. The Italian, who beat Nadal at the Rio Open in February and repeated the feat in Barcelona in April, becoming the only player other than Novak Djokovic to better the Spaniard more than once on clay in the same season, had plenty of chances. His challenge, however, was undermined by 60 unforced errors, the most damaging of which came towards the end of the second set, for which he served at 5-4.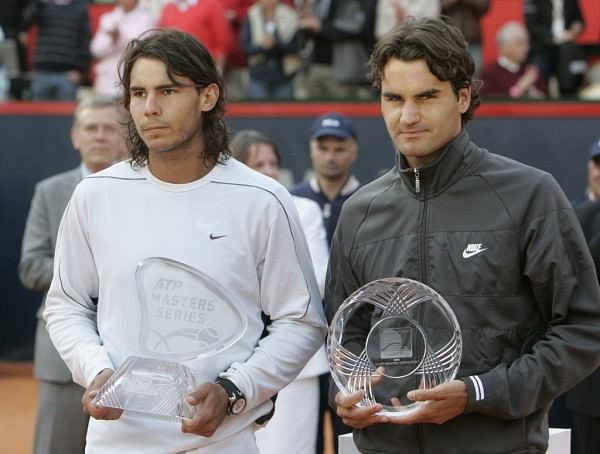 Nadal struggled to match Fognini's sporadic passages of brilliance but he was the steadier player and maintained his composure at the key moments, his focus relentless even when his form wavered.
The merits of beginning his preparations for the US hard-court swing on clay remain to be seen but – in a year when indifferent form has resulted in him losing his French Open crown, crashing out in the second round of Wimbledon to the qualifier Dustin Brown and sliding to 10th in the world rankings – confidence has been at a premium for Nadal.
STATSMETER – Rafa Nadal
Nadal extended his run of having won at least one European clay-court title every year since 2004 when he took his maiden crown in Sopot, Poland.
Nadal is 67-29 in tour finals (5th on the all-time list). Jimmy Connors leads the way at 109 titles.
Nadal now has 47 clay-court titles, second to Guillermo Vilas' 49. It was Nadal's second title on clay this year after Buenos Aires in February. The Spaniard has 67 career titles overall. Nadal won in Hamburg in 2008.
Break-up of Nadal clay-court titles: 9 Roland Garros, 19 Masters, 19 ATP 500 & 250. Nadal is 47-8 in ATP clay finals (85%). Only Novak (4), Roger (2), Andy and Zeballos have defeated him the clay finals.
Nadal tied long-time nemesis Roger Federer for the most titles won at the ATP 500 level at 16 apiece. Nadal's ATP 500 break-up: 8 Barcelona, 2 Stuttgart, 2 Acapulco, 1 Dubai, 1 Tokyo, 1 Rio de Janiero, 1 Hamburg.
Rafa and Roger are also tied for the most outdoor titles won in the Open-Era at 65.
Fognini was trying to become the first player to beat Nadal three times on clay in a year. With six losses this year, Nadal has as many defeats on clay as in three previous years combined (26-6 (81%) on clay this season as compared to 87-6 (94%) on clay from 2012-2014).
Nadal is 39-12 (76%) this season with 3 titles (Buenos Aires, Stuttgart & Hamburg). 3-1 in finals (Lost to Andy Murray – Madrid Masters Final).
Rafa at Hamburg: Nadal is now 16-2 at Am Rothenbaum (2 titles, 2008 & 2015). He's played 2 significant matches in Hamburg. In 2007 Finals, Roger Federer defeated Nadal to end the Spaniard's record 81 match win-streak on clay (Vilas has the 2nd best streak at 53 consecutive wins on clay). In 2008 SF, Rafael Nadal came out on top in the battle for the No. 2 position in the ATP Rankings with a victory over Novak Djokovic in a colossal battle which lasted over three hours and three minutes.
King of Clay: Nadal is 5th in the all-time list for match wins on clay; Vilas is the leader at 660. Nadal win % on clay is 92% (344-30) which is the best record in the Open-Era (Borg 2nd at 86%).
Rankings Update: Nadal gained one spot in the Emirates ATP Rankings moving to 9th in the rankings released on Monday. Milos Raonic dropped to 10th. Nadal also moved to 6th in the Emirates ATP Race to London gaining 2 spots (So far only Novak Djokovic has qualified for the 2015 ATP World Tour Finals).
How much were the tournament organizers willing to pay to secure Nadal's presence in Hamburg after seven years? According to LiveTennis, Nadal was offered a total of €500,000 to participate in Hamburg.
He will head to North America in better spirits & richer than he might have done.