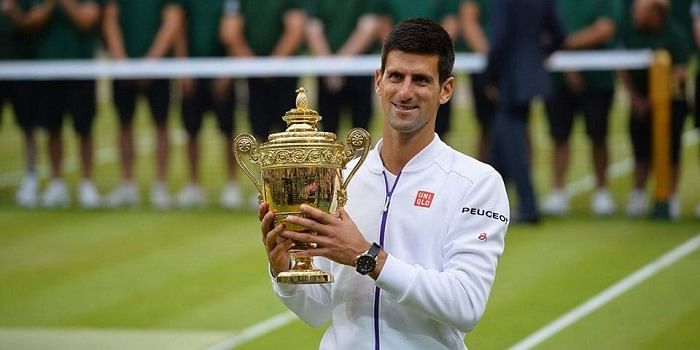 ​Wimbledon 2015 concluded a fortnight ago, and it was Serbian Bull-dozer Novak Djokovic who walked away with the honors and added a 3rd Wimbledon title to his cabinet and to his already bulging resume. Novak has been the World No.1 for the last 56 weeks (Djokovic has now been at the top of the rankings for 56 weeks in a row, a feat matched by Spain's Rafael Nadal. Novak will now be looking to surpass John McEnroe's record of leading the charts for 58 consecutive weeks "9th best all time"). He's become a winning machine in the last 10 months since the birth of his boy STEFAN winning 8 major titles (2 GS, 5 Masters & the 2014 World Tour Finals). These stats are way better than majority of the Top 10 players (achieved in their entire career). The only blip in his almost perfect CV this year is the excruciating loss to Stan Wawrinka at this year's Roland Garros which prevented him from completing the Career Grand Slam (after he had decoded Rafa Nadal for the 1st time in 7 attempts).    
Djokovic's legacy is arguably one of the best in the history of the Open-Era tennis spanning the last 47 years. The last 5 years (2011 onwards; 4.5 years to be precise) has been perhaps the "Nole Era", his reign at the top has been dominant withstanding other powerhouses, troublesome hiccups and minor disappointments. The numbers echo his standout performance:
Win-Loss – Nole is 328-38 (90%) since the start of the 2011 season. His Big 3 brothers are Rafa (84%), Roger (83%) & Andy (80%).
Slams – He's won 8 majors during this period (4 AO, 3 WIM and 1 USO) and played in 14 finals out of a possible 19. Rafa's second in this period with 5 majors (4 FO, 1 USO). The other major winners in this period include Andy & Stan – 2, Roger & Cilic 1.
Masters – He has dominated this level winning 18 titles (18-4 in finals); 18 out of a max 41 (staggering 44% conversion). Also Note: He's skipped 4 events in this category, so it is 18 out of 37 effectively (50%). Rafa's again second with 9 Masters titles.
Tour Finals – He's dominated the World Tour Finals winning 3 in a row from 2012 to 2014 (undefeated champion for 3 straight years). Ivan Lendl, the five-time former titlist, was the last player to clinch three straight season finale crowns (1985-87). Roger won in 2011.
Top 10 wins – Novak is 106-27 (80%) against Top 10 opponents. Rafa is 68%, Roger is 59% and Andy is 48%.
Overall titles – He's won 35 titles in this period (35-11 in finals). Rafa is 23-16, Roger is 20-16 & Andy is 18-8 from 2011 to current (winner-runner-up).
The Big STAT: Against the Big 4 brethren – Novak is 43-19 (Rafa 14-7, Roger 14-7 & Andy 15-5) since 2011.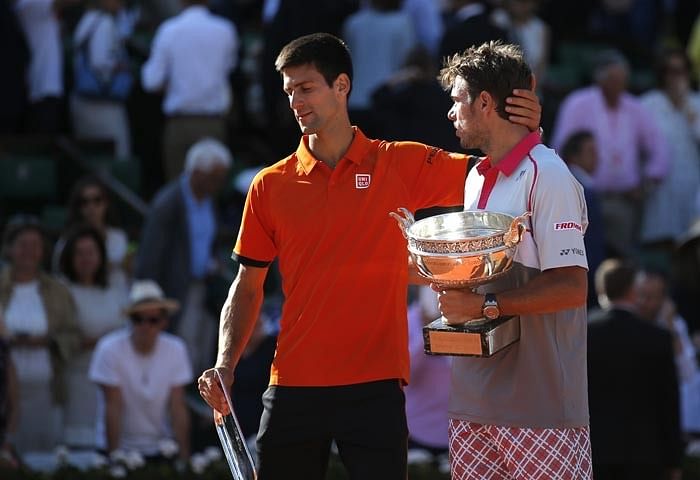 The only major setback for Nole during this incredible run was between FO 2012-2014, Djokovic lost five of six times in major finals, and he also dropped his most unbearable grand slam match at the 2013 French Open SF to Rafa Nadal when this title would have been approximately a 95 percent inevitability against Mighty Mouse & Spanish Back-board David Ferrer. In 2015, Nole 2.0 seems to be destined to better his undisputed 2011 season and join the ranks of Roger Federer, Rafa Nadal, Pete Sampras & Bjorn Borg with one of the greatest season in modern tennis annals.
This kind of total domination in Tennis are theoretically and mathematically supposed to happen once in a decade but Roger, Rafa & Nole have combined to produce sky-level tennis year after year in the last decade. This is perhaps the Golden Era of Tennis in full flight with enormous social media coverage, expert opinions of tennis critics and rival fan-bases fighting over one another. It is a high possibility that the era will never be replicated or mirrored. Only time will tell!!
Novak Djokovic has always been in the shadow of Roger Federer and Rafa Nadal who have sealed their status as "Legends" or "Gladiators" but the reception is slightly muted when it comes to Novak's astounding accomplishments. Djokovic executes his game with machine-like precision and manages to overcome adversity, controversy and throttle the drama & hype that often surrounds his perennial Top 10 neighbors Roger & Rafa.
The only way out for the Djoker is to dominate his rivals for years to come, continue to win more titles, claim more glory because the Sistine Ceiling of his career has not been finished. There are more spots to paint over, more holes to fill and more masterpieces to create. Expect the tour de force to roll on.
Alexander the Great who (allegedly) famously cried because there were no more worlds to conquer could never know what it is like to be the most dominant tennis player in the world. Even Djokovic is aware that it's never enough to win nine majors including three Wimbledons. His next Colossal task is to dominate the U.S. Open. While greater tennis immortality hinges most on Djokovic winning the French Open, New York has been Paris' evil twin sister, less renowned but nearly as unpredictable and devious to the Serbian.
Sporting dynasties are centered upon sustained; sweeping dominance that can be remembered decades later. These dynasties inspire future generations, while elderly fans seemingly hop out of time machines to recall details. Their aura of dominance is built on championship repetition.
We're watching that now with Djokovic's talent, heart and desire, but there is plenty of unfinished business. Djokovic has clinched his second multi-slam year (Federer has five and Nadal three), and he is poised to get that third major of 2015 like he did in 2011. It's not only important to post another glut of majors because of his legendary rivals, but especially to show his expanded range of dominance of the last half-decade.
Furthermore, Djokovic would love to add more diversity to his resume. Eight of his nine major championships have come at Australia or England, while one major (2011 U.S. Open) has come at Paris and New York combined. It's a strange breakdown, but his two most successful venues are both interrupted by his two least successful venues, meaning that he has only once been able to string together a streak of consecutive majors (three in a row from 2011 Wimbledon to 2012 Australia).
In other words, Djokovic's winning has been more intermittent as opposed to other historical legends who have often captured the Wimbledon-U.S. Open double on summer's tennis stage. Contrast that with the more renowned Borg-Nadal-Federer feat of capturing the rare French-Wimbledon double. Those kinds of streaks live on more in the minds and scrutiny of casual tennis and sports fans.
In addition, Djokovic would like to improve his ratio of nine major final wins to eight final losses. Here is how he ranks alongside some of the other legends of the Open era:
Pete Sampras          14-4     .777
Rafael Nadal            14-6     .700
Bjorn Borg               11-5     .688
Roger Federer          17-9    .654
John McEnroe           7-4     .636
Mats Wilander          7-4      .636
Jimmy Connors          8-7      .533
Andre Agassi             8-7      .533
Novak Djokovic          9-8     .529
Ivan Lendl                 8-11     .421
It's not as if Djokovic has been shut out at the U.S. Open, but it's been four years since that title, and he has been lashed or suffered venomous snakebites too often in the finals, falling to Federer (2007), Nadal twice (2010, 13) and Andy Murray (2012). Last year he inexplicably lost to an inspired Kei Nishikori in the SF, who put on a marathon run of matches to get himself in the final.
His lack of dominant success on fast hard courts is another soft spot that critics poke. The only Masters 1000 tournament he has not won is on the speedy surface at Cincinnati. He is nowhere near the five U.S. Open championships won by Sampras and Federer.
​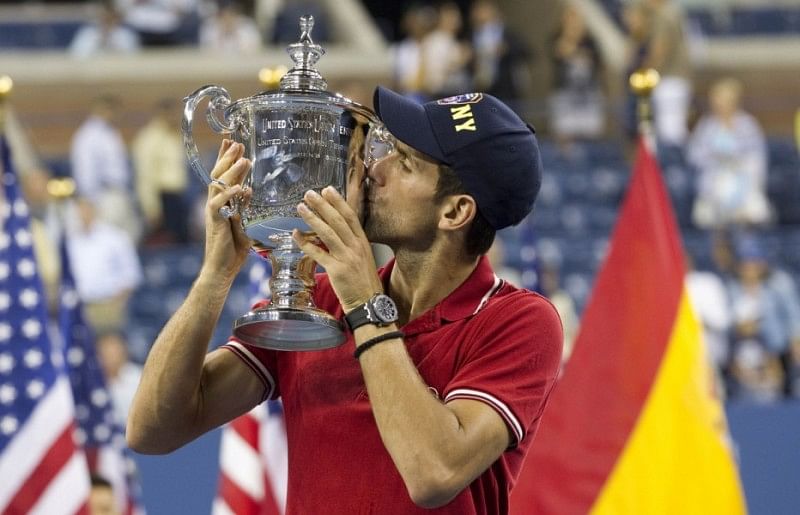 ​Winning the 2015 U.S. Open title could go a long way toward turning around this struggling reputation in upper North America. It's not as if he cannot get the job done. He has regularly won on fast courts and indoor venues like the Paris Masters and the WTF championships in London. He must continue to win if he is to remain the undisputed dominator of 2015.
Djokovic is the story in men's tennis right now. He's the front page, the middle section and the ads. Will he or won't he?  There's no reason to ask who the subject is. All championships go through him, and the rest of the tour is chasing him with little margin for error.
Right now, he walks alone and occupies the pent-house of men's tennis.
Novak Djokovic & US Open – STATSMETER
Djokovic is 50-9 (85%) on 10 visits to Flushing Meadows winning in 2011 (defeated Rafa Nadal). He is 1-4 in finals (2007 l. to Federer, 2010 & 2013 l. to Nadal, 2012 l. to Murray).
Djokovic has made 8 consecutive SF at the US Open (2007-2014) joining Jimmy Connors, Ivan Lendl, Roger Federer. Will he go on to match Connors' Open Era-record of 12?
He defeated Roger in the 2010 and 2011 SF saving match points on both the occasion.
Novak won the AO, Wimbledon & US Open in 2011. A possible repeat is ON.