To see detailed h2h stats and predictions for Serena Williams vs Garbine Muguruza, see our Stevegtennis head to head prediction here.
Serena Williams
 is three-fourths of the way to one of the greatest accomplishments in tennis history. The 33-year-old won the Wimbledon 2015 title with a 6-4, 6-4 score over the inspired 21-year-old
Garbine Muguruza
. This was her sixth Wimbledon title, her 21st Slam overall. This earned the American her second Serena Slam, as the defending champion of all four major titles, and it also marked the first time in her legendary career that she won the first three majors of the year. In less than two months in New York, Serena will be aiming to be the first woman since
Steffi Graf
in 1988 to win the Calendar Slam. Also up for grabs at the U.S. Open? Serena's 22nd Grand Slam title, which would tie her with Graf for first on the list of career Slams in the Open Era. Over the next two months, this is the most important sports story to watch. The Serena vs. Steffi debate for the moniker of "greatest of all time" has been raging for years, long before Serena was in reach of the German's trophy haul. But now, with Serena so close to achieving these two huge milestones on the precipice of her 34th birthday, and with two Serena Slams on her resume more than 12 years apart, the debate is close to being over. If Serena can come away with the victory in New York, she will be the undisputed GOAT.  Some experts believed the dispute was already over before this fortnight began. Chris Evert, an 18-time Grand Slam champion herself, told 
Time
 last month that Serena's 20-4 record (now 21-4) in major finals and her dominance over the other top women of her generation give her an edge over Graf: After watching her matches and watching her closely, these players get close, they're doing really well, and then she'll get to another level where she slaps winners and she starts acing people. It's not one level. All of a sudden, she's up two or three levels better than the field. It's not about the other women. It's about how good Serena is. Pam Shriver, Evert's ESPN colleague and a former WTA player herself, agrees with that sentiment. "I include her doubles record, her Olympic record, even throw in the mixed doubles, her longevity, her weeks at No. 1, the oldest player to ever be No. 1," Shriver told Susie Arth of espnW after the French Open. "When you throw all that together, she's better than Graf and better than Margaret Court."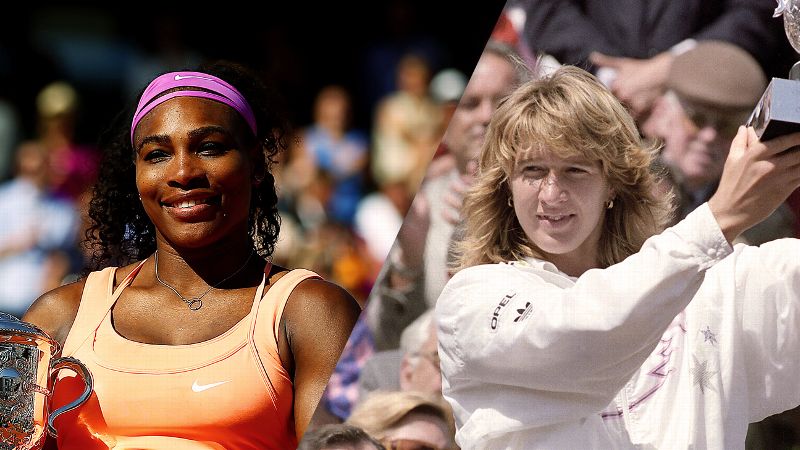 Of course, it's worth noting that there are plenty of categories where Serena still trails Graf. She only has 247 weeks at No. 1, compared to Graf's 377, and she has only finished as the year-end No. 1 four times, compared to Graf's eight. However, Serena is still No. 1 and counting, so she's sure to narrow that gap a considerable amount before all is said and done. Serena also significantly trails Steffi in stats such as number of overall matches won (Graf 900; Serena 723) and singles titles (Graf 107; Serena 68). But the game is so much more physical these days and the fields are so much deeper that we're likely never to see individual numbers like Graf's again. (For some perspective, Martina Navratilova won 1,442 matches and 167 singles finals.) The most important numbers in tennis are Slams, and that is where Serena is making the biggest impact in 2015 thanks to her longevity. She won the Australian Open despite not playing her best tennis and despite an onslaught from Maria Sharapova in the final. She won the French Open despite having the flu and being down a set and a break on multiple occasions.  This week at Wimbledon, after surviving a scare from Brit Heather Watson in the third round, Serena was faced with some of the greatest players of her generation back to back to back: Venus Williams in the fourth round, Victoria Azarenka in the quarterfinals and Sharapova in the semis. In those three matches combined, she hit 40 aces and only five double-faults, and she hit 111 winners with only 40 unforced errors. She wasn't quite as sharp in the final, but despite her obvious nerves and the power and competitiveness of her Spanish opponent, Serena came through to win her first Wimbledon title since 2012.
Now she gets to turn her focus to her next task, making the ultimate history at her hometown Slam. A Calendar Slam and No. 22 will make all of those other comparisons insignificant. So the question remains: Can she do it? Talent-wise, absolutely. She is playing the best tennis of her career. And while the pressure could potentially overwhelm her, Serena seems to have the perfect team around her to keep her calm and focused. "I'm having so much fun out here, I never dreamt I'd be out here still, let alone winning still," she said during the trophy presentation at Wimbledon after her victory. "Every day is a pleasure." Serena's greatness has long been an indisputable fact, but finally, with her late-career surge, she's racking up the numbers that her talent and work ethic deserve. Her doubt-defying resume is almost complete. So keep your calendar open this summer, particularly for the weeks surrounding Labour Day. We're about to witness something special.
For additional head to head predictions of Serena Williams Garbine Muguruza, you can see detailed H2H stats for Serena Williams vs Garbine Muguruza.
To see all our predictions for upcoming matches, based on our machine learning model analysing results since 1960, see our tennis predictions page here.