To see detailed h2h stats and predictions for John McEnroe vs John McEnroe, see our Stevegtennis head to head prediction here.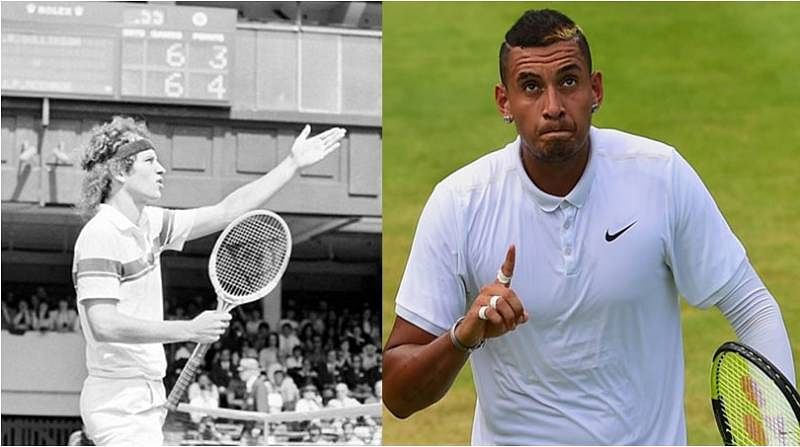 Chuckles, Tantrums, breath-taking tennis, headband controversies, air-borne racquets and Batman. It's all in a day's work for new kid on the block Nicholas Hilmy "Nick" Kyrgios.
The 20-year-old Australian tennis star's matches have become must-see sporting events at Wimbledon — and the world's media is absolutely lapping it up. Debate rages as to whether Kyrgios is a troublesome tennis brat or a breath of fresh air for the sport but most agree he's injecting a new wave of colour into the sometimes-beige world of men's tennis. Nick Kyrgios' 5-7 7-5 7-6 (7-2) 6-3 win over 7th seed Milos Raonic had just about everything. Along with brilliant tennis and his trademark interactions with the crowd there was, of course, plenty of drama. He was told to turn an official Wimbledon headband inside out, because it violated the club's all-white policy, and also he received a code violation when he tossed a racquet that bounced off the court and into the crowd. ​In the previous round, Next Gen Nick Kyrgios won his match against former Top 10 Juan Monaco of Argentina winning the match 7-6 (5), 6-3, 6-4 . The fiery Aussie was brilliant with his shot-making but as routine as the scoreline seems, the match did bring back some illustrious memories.
DEJA VU! John McEnroe
– John McEnroe's 1981 tantrum at Wimbledon gave rise to the classic phrase "You cannot be serious!" which he repeated at later matches and which even inspired the title of his autobiography. Turn the clock to 34 years later and Tennis might just be on the verge of producing its next version of "J-MAC". Nick came up with his own version of tantrums as he got into an argument with the chair umpire after the umpire asked him a question during the change-over. This is what Kyrgios had to say to chair umpire Ali Nili.: "Is that a threat? Does it feel good to be up there in the chair? Do you feel strong up there in the chair? You're a real champion. Did you get your point across?" This exchange sounded threatening and intimidating as what McEnroe said almost 3 decades earlier. Also this comes after the Aussie No.2 had another piece of the chair umpire in his 1R match when he yelled "Dirty Scum" after another heated chat with the umpire Mohamed Lahyani. He later said he was referring to himself. Fair Enough!! Kyrgios has already created enough controversy in the sport. He is full of arrogance – a behaviour which is hard to defend. In a sport where men play the game more professionally and formally as there ever was, Nick brings a breath of fresh, raw and wicked air to the atmosphere. At this point of time, the sport needs another John McEnroe. It needs an antagonist, a brat who can attract millions of fans and can instil both love and hatred in them. The Big 4 is arguably the most sought out group in the world of sports. Though their tennis does all the talking, but on-court they all like to keep it clean and neat which is a little dreary at times. The 20-year old knows how to make it to the headlines. At the start of Wimbledon 2015, the Aussie-Greek, brazen mohawked, tattooed super-star in the making who fired his coach just before Wimbledon and (thankfully) has little of the on-court sophistication that makes his sport's top player so gentlemanly, has something to say: "I don't really like tennis." He expressed his love for basketball but was pushed by his parents to take up the sport. His tendency is to use decidedly non-tennis language or demeanour on the tennis court, but Kyrgios stands out. Next up for the mercurial Aussie is a date with France's Richard Gasquet (Both Players have knocked out last year's SF; Gasquet dispatched Dimitrov in straight sets). It is a repeat of last year's 2R match where Kyrgios defeated 13th seed Gasquet in a five set thriller in which he had to come back from two sets to love down, and save nine match points over the fourth and fifth sets. Kyrgios fits the position as a top-rated warrior and could possibly go onto the take the mantle from the Big 4. As we all know McEnroe's most famous tantrum in 1981 was followed by one of Wimbledon's biggest moments as the American went to defeat unflappable Ice Man Swedish Legend Bjorn Borg (5-time defending champion) in the final. History might just repeat itself.
DÉJÀ VU! John McEnroe's 1981 Wimbledon:
During a first-round match against fellow American Tom Gullikson, McEnroe disagreed with umpire Edward James over a call, arguing he had hit the ball inside the court. "You can't be serious man, you cannot be serious!" he bellowed, rising to a spectacular crescendo that elicited an audible gasp from the audience. "That ball was on the line. Chalk flew up! How can you possibly call that out?!" He later called James the "absolute pits of the world," The umpire responded by awarding a point against the 23-year-old. The audience applauded. McEnroe then swore at the tournament referee, prompting another point penalty. McEnroe went on to defeat his Swedish arch-rival Bjorn Borg in the final, earning his 1st Wimbledon title and angrily smashing a racket in the process. Nick Kyrgios STATSMETER
Kyrgios became the first 20-year-old to beat Federer (Madrid 2015) since Juan Martin Del Potro did it in the 2009 U.S. Open final.
When he beat Nadal at Wimbledon 2014 (4R), he was the first teen to upset a No. 1 player since Nadal himself pulled the feat in 2005. He also became the 1st male main draw debutant to reach the QF since German Florian Mayer achieved that feat in 2004.
He won the Aussie Boys' Title in 2013 beating compatriot Thanasi Kokkinakis in the final.
He also reached the QF at the 2015 Aus Open becoming the 1st Teenage  male to reach two Grand Slam quarterfinals since Federer in 2001 and the first Australian male to reach the quarterfinals since Lleyton Hewitt in 2005, and the first Australian of any gender since Jelena Dokić in 2009.
For additional head to head predictions of John McEnroe John McEnroe, you can see detailed H2H stats for John McEnroe vs John McEnroe.
To see all our predictions for upcoming matches, based on our machine learning model analysing results since 1960, see our tennis predictions page here.