To see detailed h2h stats and predictions for Stan Wawrinka vs Serena Williams, see our Stevegtennis head to head prediction here.
Stan Wawrinka
and
Serena Williams
hogged the limelight in Paris when they managed to win Coupe des Mousquetaires and Coupe Suzanne Lenglen respectively. While Serena was expected to win her third title in the French Capital, Wawrinka's triumph over overwhelming favourite World No.1 Novak Djokovic was more of a shock to the tennis fraternity. Wawrinka defied the odds to beat Djokovic in four sets at Roland Garros and claimed a second Grand Slam title to add to the Australian Open and Davis Cup which he won last year. Both Williams and Wawrinka give credit to men who have stood beside them – French
Patrick Mouratoglou
and Swede
Magnus Norman
respectively. Both men have inspired their tutee to capture the title in Paris and rule supreme on the red dirt.
Mouratoglou – Masterstroke for Serena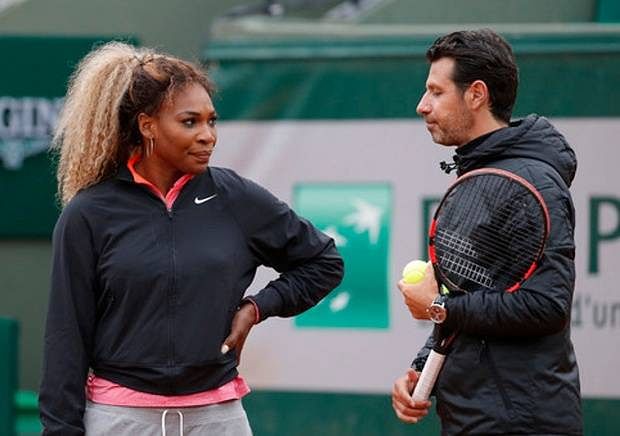 Incredible turnaround under the Frenchman
Three years ago, Serena Williams suffered her first ever loss in the opening round of a Grand Slam tournament at the French Open against Virginie Razzano of France. She was short on confidence and had not won a Slam since 2010 Wimbledon. This is when she decided to practice at the Mouratoglou Tennis Academy, run by French Patrick Mouratoglou and get back to the form that saw her win 13 majors. She hired the French tennis coach of Greek descent and it turned out to be a stroke of genius as the American has gone on to win 7 Grand Slams (in the last 12 majors she has entered) taking her overall tally to 20. Since then, Mouratoglou has steered Williams to her fifth Wimbledon title, the Olympic Gold Medal, her fourth, fifth, and sixth US Open titles, her second and third French Open titles, three consecutive year-end championships titles, her sixth Australian Open title and lifted her back to World No. 1 in the WTA rankings. She's held the top spot in the rankings since Feb 18, 2013 – 121 weeks and counting (oldest woman in the Open-Era to hold the ranking). Now with 20 majors in her bag, Williams' quest for Graf's Open-Era record of 22 continues and at this ferocious pace, she could perhaps have that number come September at this year's US Open.
Serena is mentally tougher now
Williams, who fought through flu to win her third French Open title and her third successive Grand Slam trophy, has arguably been the best player in the world for the past decade and half but her partnership with Mouratoglou has hustled her ascension towards the top of the all-time great pile.
Will we see Serena repeat her 2002 season?
The win in Paris against Czech Lucie Safarova made her only the third person in history to win each major at least three times, joining Margaret Court and Steffi Graf. She's the first player to win three straight majors since she did it herself during the Serena Slam. She is also the first player to win the Australian-French Open double since Jennifer Capriati in 2001. All eyes will be on Wimbledon when Williams will try to hold all the 4 Slams at the same time again, a repeat of the 2002-03 "Serena Slam". Should she win in London next month, she would go to New York chasing "No. 22" and try to become the fourth woman to win the Calendar Grand Slam. Williams' partnership with Mouratoglou could make her the most successful tennis player of all-time with the all-time record of 24, held by Margaret Court, looks in serious jeopardy.
Norman – Wawrinka's key to triumph
Before 2013, Stan Wawrinka was always recognised as Federer's Davis Cup team-mate, gold medal winner with Federer at the 2008 Beijing Olympics and Swiss No.2. He was enormously talented but was clumsy at the same time. Some people said that he lacked the grace and poise that Federer had. Then he hired former World No.2 Magnus Norman of Sweden and rest as they say is history. Magnus Norman was a former French Open finalist losing to Brazil's Gustavo Kuerten in the 2000 finals. He was more known for his exploits with Robin Soderling as a coach, who managed to beat Rafael Nadal in the famous 4R encounter in Roland Garros (Rafa's 1st defeat in Roland Garros). Soderling managed to reach back-to-back French Open Finals in 2009 and 2010 (defeated Federer in the QF ending his consecutive SF streak at 23) under Norman. Soderling also reached a career-high World No.4 ranking before suffering injuries and glandular fever that have troubled his career since. Norman had also teamed up with fellow former Swedish tennis players Mikael Tillström and Nicklas Kulti to run the Good to Great Tennis Academy, which has had among its students Wawrinka and rising Bulgarian star Grigor Dimitrov.
Norman instilled belief in Wawrinka
In 2013, Wawrinka began working with new coach Magnus Norman. The Swede has made Stan mentally stronger apart from being a beast already and guided him to his 1st major SF at the US Open 2013 after toiling through 34 majors (main draw) without making the last 4. At the 2013 Australian Open, he made it to the fourth round before losing a gruelling five-set thriller against Novak Djokovic which lasted just over five hours. This match perhaps started the rise of Stan towards major glory. This partnership has been recognized with improvement in Wawrinka's performance in significant matches and was evident in his victories over Andy Murray at the 2013 US Open, and Djokovic at the 2014 Australian Open (both were defending champions), as well as his improved consistency in big matches. Wawrinka's mental game has also been seen to improve over time, culminating in his win over No. 1 seed Rafael Nadal at the 2014 Australian Open Final in which Wawrinka survived a fight back from Nadal to clinch the title. He also survived a fight back from No. 1 seed Djokovic at the 2015 French Open final last Sunday, being down one break of serve in the fourth set, before breaking Djokovic's service twice to clinch the title. He managed to also defeat good friend Federer in the finals of the Monte Carlo Masters ending his 11 match losing streak against the Swiss legend. Norman has gone on to change Wawrinka's attitude towards tennis and this aided him in reaching a career high ranking of No.3 in the world.
Wawrinka is here to stay
Wawrinka has revealed that a pep talk from Norman helped him to get hold of the pre-match jitters and inspired him to glory in the French Open final against Djokovic. The Swede has had a phenomenal record with Stan which persuaded another Swedish tennis great Mats Wilander to regard him as the "Best Coach in the World". Norman has transformed his game and perhaps got him out of Federer's shadow for the best part of his professional career. Stan has still been underperforming in smaller events on a regular basis and is not consistent as the "Big 4". Amid personal disturbances and broken marriage, Wawrinka struggled to find form before arriving in Paris. But with Norman around, Stan's game went notches up given the turmoil of his life and form. With a clean & straightforward game along with a thinker like Norman, Wawrinka could possibly be part of a "Big 5" and dominate the game for a longer period. Norman's main focus now will be to ensure Stan is more consistent at the Masters level and avoid any possibly dip in form. Wawrinka's backhand is a weapon of mass destruction and on his given day, he could demolish top players by replicating the lights-out game he produced against Djokovic on Sunday. Wawrinka's victory was more fruitful for Norman as he had come close to lifting the title in Paris on 3 separate occasions (2000 as a player and 2009/2010 as a coach with Soderling). Come next month, we could perhaps see another historic chapter of the Norman-Wawrinka affiliation on the grass-courts of Wimbledon.
For additional head to head predictions of Stan Wawrinka Serena Williams, you can see detailed H2H stats for Stan Wawrinka vs Serena Williams.
To see all our predictions for upcoming matches, based on our machine learning model analysing results since 1960, see our tennis predictions page here.