To see detailed h2h stats and predictions for Stan Wawrinka vs Novak Djokovic, see our Stevegtennis head to head prediction here.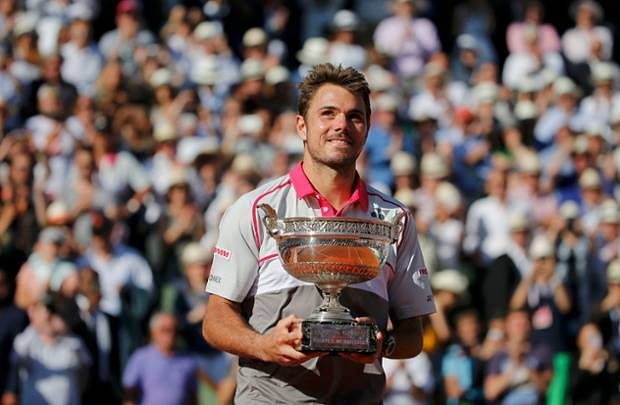 Stan Wawrinka
shocked the tennis world yesterday as he denied
Novak Djokovic
a chance for completing his Career Slam, thwarting the Serb
4-6, 6-4, 6-3, 6-4
in the finals of the French Open 2015. In arguably one of the biggest upsets in Grand Slam history, the Swiss produced some of the most breathtaking and aggressive tennis ever seen to subdue the Serbinator and take home La Coupe des Mousquetaires. But was he expected to win? On paper it was perhaps a big NO but numbers, analogy and history tilted the match towards
"STANIMAL"
. The below facts shows why the end result in sport can actually be a complete numbers' game:
3
 – Nadal lost his third Australian Open final to Wawrinka. Djokovic lost his third French Open final to the Swiss. So caution to all – do not play Wawrinka in your third final at the same Major! Murray could be the next victim (he's played two finals each at Wimbledon and the US Open).
4 & 5
–
Wawrinka clinched both the finals in four sets and rose five positions in the ATP rankings after each match.
8
 – Wawrinka would love to be seeded 8th at the Majors. He was seeded 8th at the 2014 Australian Open which was his first Grand Slam Victory. He was again seeded 8th at this year's French Open and went on to pick up his second Major.
11
 – Djokovic and Wawrinka were both aiming to win their first RG title this year, in their 11th appearance. Andres Gomez (1990), Andre Agassi (1999) and Federer (2009) all clinched their first Roland Garros title on their 11th attempt. Since all numbers here favour Stan, this stat also belongs to him.
28
– Wawrinka has now ended Djokovic's two separate 28-match winning streaks. He had ended Djokovic's 28-match win streak in the QF at the 2014 Australian Open and repeated the same yesterday as he stopped the Serb's unbeaten run at 28 matches.
43
– Djokovic was on a 43-match win streak in major events coming into the French Open finals (only Grand Slams, Masters and World Tour Finals). In 2010-11, Djokovic was also on a 43-match unbeaten run (in all matches) before he lost to another Swiss – Roger Federer – in the 2011 Roland Garros semifinals.
Too many streaks spoil the plot
– Prior to the 2015 French Open final, Novak was on a 16-match win streak on clay along with his 28-match unbeaten run overall and 43 match unbeaten streak in major events. At the 2014 Australian Open, Wawrinka defeated the Serb in the QF, bringing Djokovic's 25-match winning streak at the Australian Open, 28-match winning streak overall and streak of 14 consecutive Grand Slam semifinals to an end.
What happens when Rafa Nadal loses in Paris?
Answer
–
 Swiss Rule (Confoederatio Helvetica):
 Nadal has lost only two matches in Paris in his entire career (70-2 overall; 9 titles in 11 attempts). He lost to Swede Robin Soderling in 2009 which resulted in Swiss Roger Federer completing his Career Grand Slam. It was a repeat in 2015 as Swiss native Wawrinka took advantage of Nadal's loss in the QF to Djokovic, ensuring Swiss rule again in Paris. What this also implies is that a victory over Nadal certainly does not guarantee you the title in Paris.
Australian Open
–
French Open Double:
 In my last month article I had discussed the 
"Australian Open – French Open double: A near impossible feat to achieve"
. This continues to be the most difficult double to attain in men's tennis, as only three men have done it in the Open Era (Rod Laver in 1969, Mats Wilander in 1988 and Jim Courier in 1992). With all odds stacked against him, Djokovic's task of winning the double even got tougher.
Career Grand Slam in jeopardy
– Djokovic was denied a chance to complete his Career Grand Slam by Wawrinka. Interestingly, the Swiss had also denied Nadal the chance to complete the Open Era's first Double Career Slam (multiple victories at all Slams) at the 2014 Australian Open. Out of the six players who have played in excess of 16 Grand Slam finals, only Lendl and Nadal have won their 16th Major final (Federer, Sampras, Borg and now Djokovic all lost their 16th title match). Djokovic was also playing in a No-Nadal final which should have favoured the Serb as Nadal had denied Federer the Career Grand Slam four times (2005-2008) and also stopped the Serb thrice (2012-2014). The French Open is the best place to tick off the Career Slam with both Agassi (1999) and Federer (2009) completing their full set here in Paris, but the Serb ran out of luck. His wait continues….
Stats meter
– Wawrinka will return to the Top 4 in the Emirates ATP Rankings on Monday after joining Federer (2009) as the only Swiss champions at the claycourt Grand Slam. The Lausanne native added to the Australian Open crown he won in January 2014 (d. Nadal), making him just the sixth active player to win multiple Major titles. – The 30-year-old Wawrinka, who won the boys' singles title in Paris in 2003 (d. Baker), is the first former junior champion to lift the men's singles trophy since Mats Wilander in 1988. Only six of the 68 different Roland Garros boys' champions have gone on to win the men's singles title. – At 30 years and 71 days, he is the third oldest first-time Roland Garros champion in the Open Era. He became the oldest champion since Andrés Gómez of Ecuador who won the title in 1990. He also became the lowest seed to win in Paris since the unseeded Gaston Gaudio (44 ranked) of Argentina beat compatriot and third seed Guillermo Coria in the 2004 French Open final. – Having fallen to Guillermo Garcia-Lopez in the first round last year, Wawrinka is the first player to return the following year and lift the trophy at the same Grand Slam championship since Federer won at 2003 Wimbledon. One year earlier, the Swiss had fallen in his opener to Mario Ancic at the All England Club. Wawrinka is also the first man to win Roland Garros after losing in the 1R in the previous year. – Following his victory over Federer in the QF, Wawrinka became the third active player (after Tsonga and Berdych) outside of the big four (Federer, Nadal, Djokovic and Murray) to have beaten each member of the 'Big Four' in major tournaments. – Incidentally Gustavo Kuerten, who had beaten Stan's coach Swede Magnus Norman in the 2000 French Open final, presented the winner's trophy to the Swiss. – Djokovic's coach Boris Becker also failed to win Roland Garros (best result SF in 1987, 89, 91).
For additional head to head predictions of Stan Wawrinka Novak Djokovic, you can see detailed H2H stats for Stan Wawrinka vs Novak Djokovic.
To see all our predictions for upcoming matches, based on our machine learning model analysing results since 1960, see our tennis predictions page here.