Novak Djokovic and Roger Federer are set to collide for the fifth time this season in the Cincinnati Masters 2015 final on Sunday and the stakes are as high as ever. Novak Djokovic is chasing history, while Roger Federer is more concerned with boosting his chances for the next few weeks, but there is more than enough on the line for both players to make this Cincinnati Masters final a must-watch on Sunday. Check out the Roger Federer vs Novak Djokovic Head to Head matches.
Djokovic is bidding to make history at the Western & Southern Open as a victory against Federer would see him become the first man to have won all nine Masters Series events in his career & complete the "Career Golden Masters".
What is at stake for world no. 1 Novak Djokovic? In terms of this season, Djokovic certainly doesn't need the Cincinnati Masters title to boost his confidence or give him momentum coming into the fourth and final Grand Slam of the year, which begins on Monday 31 August: He's won almost all of the significant events of the season so far, including Grand Slams at the Australian Open and Wimbledon and Masters Series titles in Indian Wells, Miami, Monte Carlo and Rome. But Djokovic could capture a quite incredible record if he betters his four previous runner-up finishes in Cincinnati: A title on Sunday will see him become the first man in history to win all nine Masters Series events over the course of his career. Following so close behind Federer and Rafael Nadal, there are few major records which Djokovic can break, but this would set an absurdly high and historical mark.
Meanwhile, defending champion Federer will be bidding to regain his World No. 2 ranking from Andy Murray (who had ousted Roger from the No.2 spot after his win in Montreal) and effectively secure the No. 2 seeding for the US Open. If he is successful, it would therefore mean he can avoid playing Djokovic until potentially in the Grand Slam final. Securing the No. 2 seeding at the US Open would be a huge boost for Federer, as the 34-year-old is still chasing his elusive 18th major title. Djokovic has ended his Grand Slam run on seven occasions across their career, most recently in the Wimbledon final for the past two years in a row. If Federer won, the title would merely be his seventh at the Cincinnati Masters, where the courts favor attacking tennis and where he has a ridiculously good record (41-8; 6 titles).
Federer has typically been more successful than Djokovic, in fact anyone for that matter, at the Cincinnati Masters in the past. He has won the title a record six times, and he has also reached the quarterfinals or better on a further two occasions. Moreover, Federer has never lost in the Cincinnati final, which gives him a 100 per cent winning rate when it comes down to the final two at the Masters event. On the contrary, Djokovic has never managed to win the Cincinnati title, despite having reached the final on four occasions. Additionally, the World No. 1 has never actually won a set in the final. Two of those losses have come against Federer as well, in 2009: 1-6, 5-7 and again in 2012: 0-6, 6-7 (7).
The head-to-head record is tied at 20-20 between the pair and their meetings on the hard surface are also tied at 1-1 this season. Sunday's final represents the best opportunity Federer has had to beat Djokovic all season long. Will he take it? With their head-to-head evenly poised, Novak Djokovic and Roger Federer face off in the final of the Cincinnati Masters on Sunday. Could fitness concerns for Djokovic see him denied the historic 'Masters Slam' by Federer?
Prediction – Federer in 3 sets
Djokovic is not playing at the same level he was at Wimbledon or Indian Wells when he beat Federer in the final, whereas Federer is playing as close to perfect as perhaps possible. And Djokovic has been far from perfect this week. Add to the fact that he had a much longer and more physical semifinal the week after reaching the final in Montreal, Federer has a considerable physical advantage. It will still be close, but most of the advantages are in Federer's favour. Federer won in Dubai, which is a surface more similar to Cincinnati. He also won Shanghai against Djokovic, which is also a surface closer to Cincinnati's. Remember that Federer has beaten Djokovic twice in Cincinnati and has never lost more than six games to the Serb on this court. This is a speedy hard courts on which Federer's game is more effective.
​THE NUMBERS – ROGER v NOLE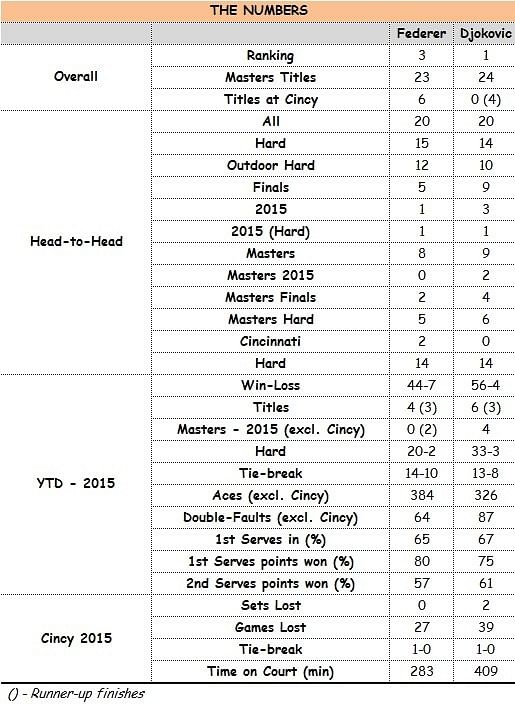 ​
​
See more Tennis Predictions and Previews