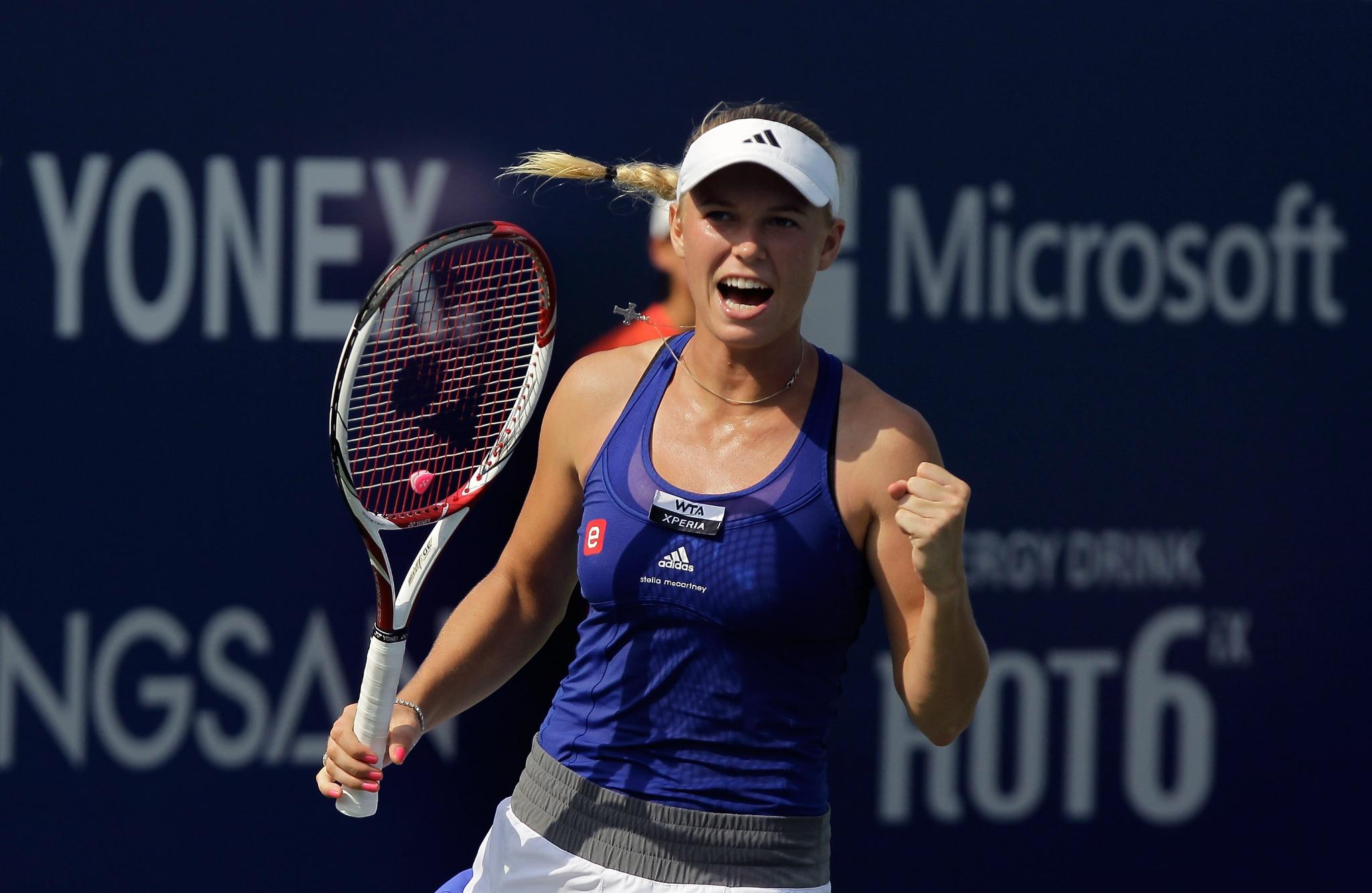 In a one-sided final that lasted just over an hour, top-seed Caroline Wozniacki defeated third-seed Kaia Kanepi 6-1  6-0 to win the 2012 Korea Open title.  This is Wozniacki's first title in the 2012 season (her last title was the 2011 New Haven Open).
Based on Wozniacki and Kanepi's respective performances in their SF victories, Wozniacki looked to be the favorite coming into this final.  Kanepi's SF win over Varvara Lapchenko featured too many errors and her serves let her down on key points.
In the final, Kanepi's attacking skills could not measure up to Wozniacki's consistency.  Wozniacki reached deuce on Kanepi's first service game, and then gained BP when Kanepi hit a wide forehand.  She broke to take the early lead, and then broke the Kanepi serve again to go up a double break in the first set.  Wozniacki used good placement on her serves and skilled footwork.  A two-handed backhand volley gave Wozniacki the 4-0* lead in the first set.
Wozniacki hit an impressive return-of-serve to eventually go 15-30 on Kanepi's serve, but Kanepi hit a FHDTL that drew a weak reply from Wozniacki.  Kanepi finally put herself on the board, at 1-4.  The FHDTL from Kanepi was more reminiscent of Kanepi at her best — in the final, however, she could not find the range on her shots and was hitting a succession of errors.
While serving to stay in the set, Kanepi's footwork let her down at deuce.  A deep backhand from Wozniacki put the pressure on Kanepi, and she soon faced SP, which she saved.  However, Wozniacki took the second SP chance when Kanepi's backhand sailed long, to take the first set 6-1.
Although Kanepi played points where she showed her ability to hit winners, she was severely set back by her error count.  She quickly went 0-40 down on her serve in the second set.  At this point, Kanepi seemed to get impatient during the rallies as well.  Although she saved two BPs, she went for too much on her forehand and hit straight into the net — Wozniacki was up a break, 2*-0.
With the momentum clearly on her side, Wozniacki played an impressive game, where she hit two forehand winners and an ace to consolidate her lead.  She then broke Kanepi's serve again (after Kanepi hit a wide backhand), to go up 4*-0.
Kanepi put up her last resistance with a great backhand winner, but Wozanicki remained steady and absorbed the pace of Kanepi's shots.  She then gained three championship points on Kanepi's serve, to eventually win the 2012 Korea Open title.
Overall, Wozniacki was 6/12 on BPs, while Kanepi went 0/4.  Kanepi won only 29% of points off her first serve, compared to Wozniacki's 94%.
This was an impressive performance from Wozniacki, who had injury problems earlier this summer.  Her footwork and defensive abilities helped her win points, but she also stepped up her game on the aggression front.  She was hitting winners off both wings with apparent ease — whether this marks a new shift in her game plan is an interesting question to consider during the Asian swing this fall.