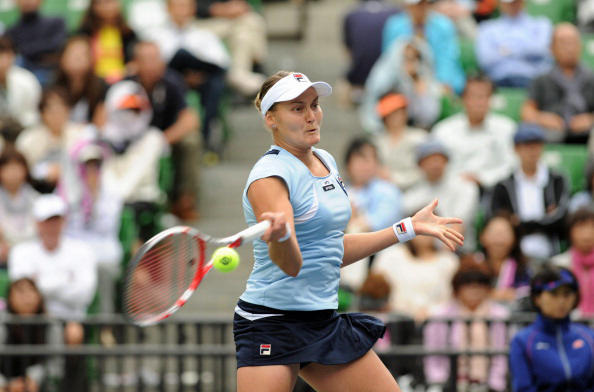 After her courageous upset of 6th seed Sara Errani in the QF, 17th seed Nadia Petrova battled on to stage another upset in the SF over 8th seed Sam Stosur in straight sets, 6-4 6-2.  She will play 3rd seed Aga Radwanska in the final, who defeated 5th seed Angelique Kerber 6-1 6-1.
Coming into this match, Petrova led the H2H 5-3 against Stosur.  The two players were 1-1 in 2012, with Stosur winning their latest match at Roland Garros this year.
The Australian started the match with a weak service game.  With a strong return of serve, Petrova rallied on to gain two BPs.  Stosur hit a series of backhand slices, before hitting an error that gave away the break.  Petrova consolidated her early break with powerful serves and forehands, while Stosur struggled to gain a foothold in this SF.  Stosur hit another BH error to get to deuce on her serve, although she followed that up with a finely constructed point, which she finished off with a FH winner.  On a lucky net cord, Stosur held her serve to put herself on the scoreboard, 1-2.
Stosur had another tough service game when she was serving at 1*-3.  Petrova hit an impressive strong crosscourt BH, which wrongfooted Stosur and left her standing on the baseline.  Although she held serve, Stosur often showed signs of frustration with herself, especially after another BH error on Petrova's serve, which left Stosur serving to stay in the set at 3*-5.
Before Petrova served for the first set, Stosur called for the trainer.  The Australian had a problem that was eventually diagnosed as a left abdominal strain, for which she took a 3-minute MTO.  Whether the abdominal strain interfered with Stosur's backhand shots is an open question, although Petrova did a good job in executing her game plan of targeting Stosur's BH side.
Petrova used the time during Stosur's MTO to speak lightheartedly with her coach, Ricardo Sanchez, before taking the first set, 6-4.
In Petrova-Stosur's H2H history, the winner of the first set has always gone on to win the match.
Whether the Russian was aware of this bit of trivia, she quickly went on to break Stosur's serve, to go up 2*-1 in the second set.  Although Stosur was still showing fight, taking advantage of the chances on her FH side, her BHs left her exposed too often on the court.
Throughout the match, neither player was serving well (first serve stats for Petrova and Stosur were in the 40-50% range).  At 2*-4 on Stosur's serve, Petrova hit a return winner to earn another BP.  After a long game, Petrova eventually drew out a FH error from Stosur, earning herself a double break and a chance to serve for the match.
Stosur made one final attempt to break back, but she went for too much on her return of serve.  She then played a more patient point to win a point against serve, which she quickly followed up with a return of serve winner.  She had a BP chance, which Petrova brushed off, but Stosur fought back to earn herself another BP.  Despite the late show of nerves, Petrova eventually held serve to win the SF match.
With this victory, Petrova reaches the Tokyo final, where she will play for her 12th WTA title against Aga Radwanska or Angelique Kerber.  Tokyo will be Petrova's second final of 2012 and the 23rd final in her career (Petrova is currently 11-11 in career finals).