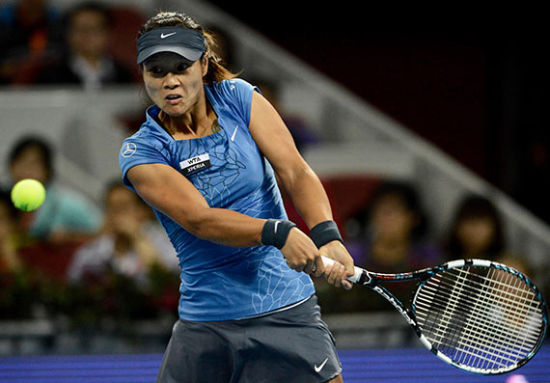 Li Na overcame Francesca Schiavone with a 6-2 6-3 victory to advance into the second round of China Open 2012. Julia Goerges came back from a set down to defeat Vania King 6-7 (9) 7-5 6-2 and booked herself a next round ticket.
Li earned BP on Schiavone's opening service game.  With a strong return of serve, Li broke to take a 1*-0 lead.  Li then hit a winner at 123 kph in her service game, followed by another forehand that registered at 138 kph.  She played confidently and hit winners from all sides of the court.  Meanwhile, Schiavone was having trouble with her serves.  She had five double faults in her first two service games.
However, Li sfaced trouble recovering from her high-power shots, whenever Schiavone put them back in play.  Li had to fend off two BPs in her first two service games.  Still, she went up 0-30 on Schiavone's service game at 1*-3, then earned two BPs at 15-40.  Schiavone served her seventh double-fault to give away the second break.  Li was up 4*-1.
Schiavone was not having a great time on the indoor HCs, a different surface from her favored clay.  She was broken for the second time, to leave Li serving for the first set at 2-5*.  At this point in the match, Schiavone had registered 9 double faults and was serving at 23%.
Schiavone was broken early in the second set, but got on the board at 1-2*.  She then earned BP on Li's service game, after a 19-shot rally.  Off a stray BH from Li, Schiavone broke Li to go back on serve in the second set.
However, Schiavone could not maintain her momentum, as Li quickly earned two BPs on Schiavone's next service game.  Off a sharp cross-court BH, and her sharp FHs, Li broke again to go up 3*-2.
Li hit another 120+ kph FH winner to go 30-all on her serve at 4*-3.  She earned GP off a long return from Schiavone.  Schiavone was serving to stay in the match at 3*-5.  Schiavone made an error on a slice BH to give Li three MPs.  Li took the first of the three chances off a BH winner.
Overall, Li played a solid match at her home tournament.  Just last year, Li was learning how to handle the fame and attention that her remarkable victory at Roland Garros had brought her.  She lost in R1 last year to Monica Nicolescu.  This year Li advances to R2, where she will play Nadia Petrova (who is in impressive form, following her Tokyo Open title win last week).
In the Julia Goerges-Vania King match, Goerges went up 0-30 on King's serve in the first game.  King played an opening service game that lasted over 9 minutes.  After saving 3 BPs, King held serve.  Goerges went for too much on her shots, as she grew impatient from the baseline.
Both players traded breaks in the first set and played a relatively even match at the start.  King got an important break to go up 6*-5, to serve for the first set.  Goerges earned two BPs and then broke at 15 to take the first set to a TB.  In the TB, King went up a mini-break to go up 3-0.  However, King double-faulted and the TB score was 3-3 at the change of ends.  Goerges missed chances on SP, and the TB went to 8-8, until King had SP at 9-8.  Goerges saved it, but King eventually went on to take the first set at 11-9 in the TB.
King then went up 2-0 in the second set.  However, Goerges went on to break back and she ended up taking the second set 7-5, force a decider.  This match featured a total of 11 breaks of serve, as both players struggled with errors.
In the third set, Goerges took command to go up a double break.  After nearly three hours of play, Goerges eventually served for the match at 5*-2 and earned a MP at 40-30, which she took to win the third set and match.  In R2, Goerges will face 8th seed Sam Stosur.